In 2023, more and more businesses are accepting cryptocurrencies as a way to pay for goods and services. To make this process smooth, they use crypto payment providers. These providers help convert cryptocurrencies into regular money, making it easier for businesses to handle these transactions. They act as middlemen between digital currencies and traditional finance systems.
In this article, we will explore the importance of using crypto payment providers in 2023 and highlight five top providers, such as Coinremitter, Coinbase Commerce, Alphapo, Coingate, and Coinspayment, that offer reliable and efficient solutions for businesses to accept crypto payments.
Importance of Using Crypto Payment Providers in 2023
Access to a Wider Customer Base: As the adoption of cryptocurrencies continues to grow, businesses that accept digital payments can tap into a global audience of crypto users. Using crypto payment processors allows merchants to attract new customers who prefer using cryptocurrencies for transactions.
Seamless Transactions: crypto payment gateways streamline the payment process, making it simple and convenient for merchants and customers. They eliminate the complexities of handling crypto transactions and provide a smooth payment experience, enhancing customer satisfaction.
Reduced Volatility Risks: Cryptocurrencies are known for their price volatility. By using crypto payment gateways, merchants can convert crypto payments into fiat currencies almost instantly, minimizing the risks associated with price fluctuations.
Top 5 Crypto Payment Providers in 2023:
Coinremitter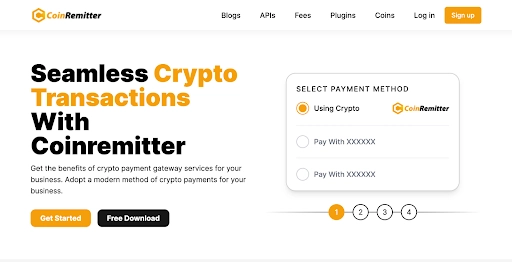 Coinremitter is a leading crypto payment processor known for its affordability and ease of use. It supports popular cryptocurrencies like Bitcoin and Ethereum, making it a universal choice for businesses looking to accept various digital assets.
Pros:
Lowest transaction and processing fees at 0.23%.
Simple setup with no KYC or bank account requirements.
Free API integration support and plugins for seamless integration.
Cons:
Limited support for some less popular cryptocurrencies.
Coinremitter offers direct merchant, sub-merchant, and channel partner business solutions.
The platform ensures top-notch security to protect users' funds and transactions.
It provides real-time transaction status updates to merchants for better monitoring.
Coinbase Commerce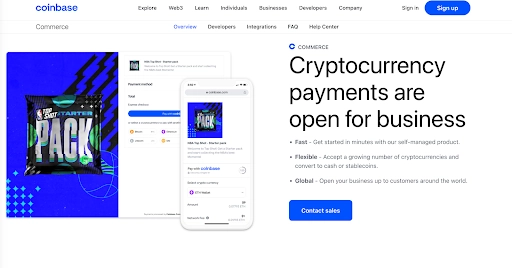 Coinbase Commerce is a well-established crypto payment gateway that supports a wide range of cryptocurrencies, including Bitcoin, Bitcoin Cash, Ethereum, and more. It is known for its user-friendly interface and secure payment processing.
Pros:
Access to a wide range of cryptocurrencies.
Offers both simple and advanced trading options.
Impressive security features and vault storage for fund protection.
Cons:
Higher fees compared to some other crypto payment processors.
Limited staking and interest opportunities.
Coinbase Commerce allows users to create payment buttons for easy integration on any website.
The platform offers the first US$1 million worth of transactions for free, making it cost-effective for small businesses.
Coinbase Commerce has a beginner-friendly interface, making it accessible to new merchants.
Alphapo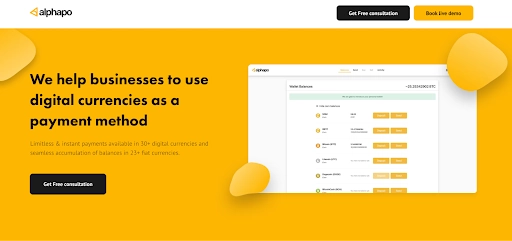 Alphapo is a rising star in the crypto payment space, gaining popularity for its efficient payment processing solutions. It supports a variety of cryptocurrencies and provides users with the flexibility to split payments between fiat and crypto.
Pros:
Low transaction fees at 1.5%.
Allows users to withdraw funds in US dollars or euros.
Provides non-custodial solutions for enhanced security.
Cons:
Limited availability in certain regions.
Lack of support for some niche cryptocurrencies.
Cryptocurrencies payment gateway Alphapo offers an easy integration process without the need for sign-ups, making it a hassle-free option for merchants.
The platform facilitates peer-to-peer payments, ensuring direct fund transfers without third-party involvement.
Alphapo hot wallet offers low transaction fees, making it competitive among other crypto payment providers.
CoinGate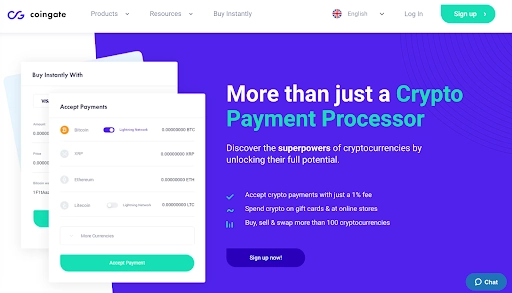 CoinGate is one of the oldest crypto payment gateways, pioneering the integration with the Lightning Network to enhance transaction volume and speed. It supports a wide range of cryptocurrencies, providing versatility for businesses.
Pros:
User-friendly app layout for easy payment setup and management.
Extensive support for over 40 cryptocurrencies.
Creation of crypto payment buttons for website integration.
Cons:
Some regulatory challenges in certain countries.
The platform does not support bank transfers.
CoinGate provides payment APIs, offering merchants complete control of their checkout experience.
It offers top-notch security features, ensuring safe and protected crypto transactions.
The platform charges a nominal 1% fee on all transactions, making it a cost-effective choice for businesses.
CoinPayments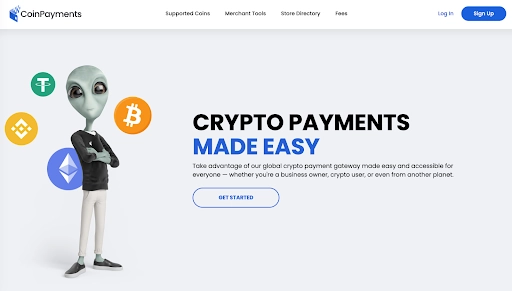 CoinPayments is a widely recognized crypto payment gateway supporting numerous cryptocurrencies, including Bitcoin, Ripple, and Litecoin. It is operational in over 200 countries, making it an excellent choice for global crypto payments.
Pros:
Supports over 2000 cryptocurrencies in one wallet.
Offers non-custodial solutions for enhanced security.
Mobile applications for easy and accessible payments.
Cons:
Some users may not prefer the custodial wallet model.
Limited availability of open-source code for transparency.
CoinPayments allows users to avail of a 50% discount on various fees through its hosting and transaction rebates.
The platform offers a mobile application for both Android and iOS, facilitating payments on the go.
CoinPayments provides generous cashback and other rewards to users, enhancing the payment experience.
Summary
In 2023, using crypto payment gateways has become essential for businesses looking to tap into the growing crypto market. These providers offer a range of benefits, including access to a wider customer base, seamless transactions, and reduced volatility risks. Among the top 5 crypto payment providers: Coinremitter, Coinbase Commerce, Alphapo, CoinGate, and CoinPayments stand out for their reliability, features, and user-friendliness. By leveraging these platforms, businesses can embrace cryptocurrencies as a legitimate form of payment and stay ahead in the evolving financial landscape.